Sleep Apnea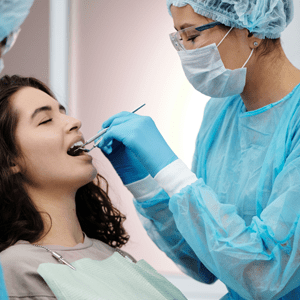 Sleep deprivation and related problems are considered as some of the most serious health hazards by many health organizations in the United States. Sleep related problems can have long-term effects on overall health of people and also be potentially life-threatening. It is one among these sleep disorders that has been seen in American population in an alarming scale. The condition causes loud snoring, shallow breathing and forces patients to wake up frequently when asleep. It is known to cause cardiac problems, increased blood pressure and headache. The condition reduces the quality of life. Dentistry has solutions to this problem. Through appliances, advanced equipment and surgical treatment, dental professionals can cure it. If you or your bed partner snores when asleep, visit our dental office located in Rancho Mirage for a checkup. Our dentist performs a thorough check and lets you know if you need treatment for your snoring. We have patients who visit us from Coachella Valley, Cathedral City, Palm Desert, Palm Spring and surrounding communities of Rancho Mirage.
Sleep apnea – What it is?
In people who snore, the tissues at the back of the throat relax to block the air-way partially and create sound. It is a condition where the airway gets completely blocked and leads to breathing pauses. This can happen many times when the patient is asleep. When this occurs, the blood oxygen level falls and the patient is forced to wake up in order to open the airway. Research has shown that some people are at higher risk when compared to others.
Obesity
Being Male
Age above 40
Smoking
Family history of the disease
Sleep apnea and health problems
There can be several health problems caused from sleep apnea. While some of these problems are evident immediately, others may be noticed only during a long-run. Headache, inability to concentrate on work, daytime drowsiness and fatigue are some of the symptoms of apnea. It can have long term effects on heart. It is known to increase the risk of heart attack. High blood pressure, liver problems and stroke are other risks factors.
Sleep apnea diagnosis and treatment
The diagnosis of sleep apnoea is the most challenging part. Since the condition occurs when the patient is asleep, only the bed partner may be able to make a note of the symptoms. The treatment depends on the type and stage of the problem. There are oral appliances and machines that can keep the airway of patient open during sleep. A surgery may be recommended in more complex cases.