Sleep Apnea Rancho Mirage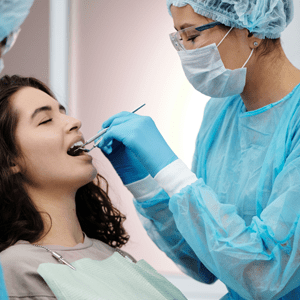 Sleep Apnea is a breathing related sleep disorder that interrupts normal sleep patterns with intermittent pauses in breathing. Obstructive Sleep Apnea (OSA) occurs when the airway becomes blocked due to collapse of soft tissue in the back of the throat. The blocked airway prevents the individual from taking a breath. This results in a rapid increase in a heart rate, an increase in blood pressure and a measurable decrease of oxygen to the heart and brain. These changes put the OSA patient at an increased risk for heart attacks and stroke. The breathing pauses (either complete or partial ) can occur dozens of times at night creating a snowball effect that manifests itself as daytime sleepiness , falling asleep while watching television or driving, waking up with headaches or generalized fatigue. The effects of oxygen deprivation to the heart, brain and vital organs make OSA sufferers three times more likely to contract heart disease and four times more likely to have a stroke. Adequate levels of uninterrupted deep sleep and rapid eye movement sleep (REM) are essential to our overall health. The consequences of allowing OSA to go undiagnosed are serious.
Snoring is a strong indicator of sleep apnea. Sleep partners are often the ones to bring the problem to light and ask the snorer to seek treatment. Diagnosing and treating the condition early is critical to avoid life threatening consequences. Repeated disruption of sleep is associated with poor performance of motor skills to the level consistent with legal intoxication.
The continuous positive airway pressure (CPAP) devices are considered the "gold standard" of treatment for patients diagnosed with OSA. CPAP involves use of a specially designed mask that uses pressure to blow air through the obstructed airway into the lungs. While effective, many patients find compliance with the use of CPAP difficult for a variety of reasons including skin irritation from the mask, mouth dryness, runny nose and allergies. Patients who are CPAP intolerant frequently benefit from oral appliance therapy.
A variety of oral appliances are available to open the airway through anterior mandibular repositioning. An open airway contributes to improved breathing and blood oxygenation. Oral appliances for sleep apnea are always custom fit to each patient's mouth. The mandibular position is carefully titrated for optimum airway opening and optimum oxygen saturation of the blood.