Sleep Apnea Services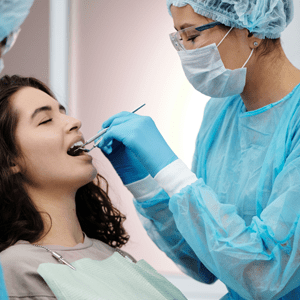 Snoring is one of the common problems faced by Americans. Did you know that loud snoring and breathing pauses when asleep can indicate a sleeping disorder called sleep apnea? It is one of the most serious sleep problems that affects many people in the United States. It can lead to problems such as fatigue, drowsiness, headache and lack of concentration. There are other long-term health effects that is caused by it. Dental professionals can diagnose and treatment this problem with using appliances, equipment or through surgeries. Is loud snoring bothering you or your partner? Make an appointment and consult our dentist in Rancho Mirage. We welcome patients from La Quinta, Desert Hot Springs, Yucca Valley, Indian Wells California and surrounding communities.
What is sleep apnea and what are the symptoms?
It is a condition where the airway of patients get completely blocked several times during sleep. As a result patients are forced to wake-up to open up the airway. The tissues at the back of the throat tend to rest and block the airway. Since the patient wakes up several times, he/she may fail to get sound sleep. This can lead to drowsiness when awake. Following are some of the symptoms that may indicate sleep apnea.
Loud snoring
Headache
Difficulty to concentrate on daily activities
Fatigue
There are several long-term health effects of apnea. Some of them include hypertension, cardiac problems and diabetes.
Diagnosis and treatment of sleep apnea
It is difficult to diagnose since the characteristics of the disorder can be noted only when the patient is asleep. The bedtime partners of patients who are having the disorder may help our staff to diagnose the problem. The treatment to the problem can be different for each patient. While some patients may prefer use of appliances that keep the airway open when asleep, some others may have to be treated using CPAP. This equipment keeps the airway of patient open by continuous positive airway pressure. A surgery may be recommended as as a solution for some patients.