Emergency Dentistry in Rancho Mirage, Palm Desert, Palm Spring, Coachella Valley, Cathedral City, La Quinta, Desert Hot Springs, Yucca Valley, Indian Wells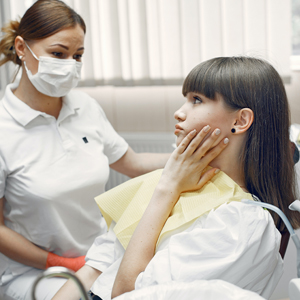 Dental emergencies are undesirable conditions that can have long-term effects on oral health. Patients require immediate dental attention during dental emergencies. Pain, bleeding, sensitivity and swelling can be some common symptoms that follow a dental emergency. Our dental professionals at Rancho Mirage office firstly ensure that pain or swelling is taken care of and then address the issue through suitable treatment such that the teeth and gums are safe. If you or any of your family members are facing a dental emergency contact our practice. Through our dental care we have been successful in earning trust of patients from Rancho Mirage, Palm Desert, Palm Spring, Coachella Valley, Cathedral City, La Quinta, Desert Hot Springs, Yucca Valley, Indian Wells. Stay informed about the steps that should be taken when you face a dental emergency.
What happens during a dental emergency?
Dental emergencies are conditions that can cause pain, swelling, bleeding and tooth sensitivity. Toothache or swelling due to a dental infection is the natural indication of the human body that there is a problem. Such conditions should be immediately treated to avoid spreading of the infection. Other dental emergencies which may be a result of an accidental injury can lead to soft tissue and hard tissue loss. With immediate action the injured teeth and gums can be protected and restored to shape.
Don't endure the tooth pain! Call us immediately and get relief to all your dental emergencies
Toothache
One of the main causes for toothache is caries. When toothache is severe or when it lasts for more than a day or two, patients should immediately contact the dental office and make an appointment. Over the counter pain medicines can help patients relieve from pain. Dental hygienist remove the decayed part of the tooth and restore it using appropriate materials. A root canal treatment may be performed if necessary.
Swelling
Swelling may occur as a result of tooth abscess or infected tooth root. Patients can use a cold compress to reduce the swelling. Visit the dentist at the earliest who will help you cure the infection and ensure that it does not reoccur.
Knocked out tooth
A knocked out tooth can be saved if it is put back in the socket with in an hour of the incident. Patients should carefully hold the crown of the tooth and gently rinse it to clear dust. Patients can try and put the tooth back in socket. If they are not successful in doing so, they can store it in the vestibule and rush to the dental office immediately.
Fallen crown
A fallen crown or filling can cause tooth sensitivity. Patients should collect the crown and try to put it back over the tooth to avoid damage to the tooth. dental surgeons can use dental cement to bond the crown over the tooth.
Chipped/broken tooth
Patients should collect the chipped and broken parts of tooth. Cold compress can be used if there is swelling. The Emergency dentist may try and restore the broken parts and protect the tooth using a crown. If not, other materials may be used to restore the injured tooth.
The most important thing people should know is not to panic during a dental emergency. Fear can stop patients from taking few important steps that can have long term influence on oral health. Routine visits, proper oral care and safety measures when involved in adventure sports can help people avoid at least some of the dental emergencies.
Our experienced team provides comprehensive dental care for all your dental need. We serve the people of Rancho Mirage CA and other surrounding areas such as Palm Desert, Palm Spring, Coachella Valley, Cathedral City, La Quinta, Desert Hot Springs, Yucca Valley, Indian Wells.
If you ever have any dental issues or want to know more about our dental services, feel free to talk to us, we are always happy to hear from you. We care about your smile and dental health and we look forward to making your every visit to our Rancho Mirage dental office a positive experience.