Dental Implants in Rancho Mirage, Palm Desert, Palm Spring, Coachella Valley, Cathedral City, La Quinta, Desert Hot Springs, Yucca Valley, Indian Wells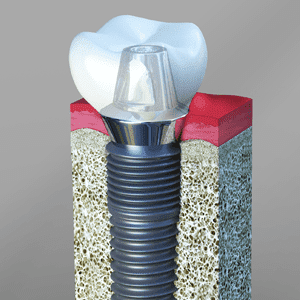 When a tooth is lost the gap left behind initiates a cascade of dental problems. Keeping aside the obvious fact that the chewing efficiency reduces with tooth loss, other problems like gum infection, bone resorption and orthodontic problems can also arise from missing teeth. Dental implants are designed to act as replacement to lost teeth. They are surgically placed in the supporting bone and a crown is fixed over them. Our dentist Dr. Keerthi Senthil have several years of experience in treating dental problems. Our team specializes in oral rehabilitation with dental implants and has successfully performed many complicated dental implant surgeries in Rancho Mirage, CA. If you are planning to replace your lost teeth, call our office for an in depth consultation and evaluation of your specific situation.
Teeth loss and dental problems
Teeth loss can occur due to tooth decay, gum infection, trauma or iatrogenic causes. Depending on the position in the dentition it can be detrimental to one's appearance and chewing efficiency. The gap caused by missing teeth attracts food particles. Food lodgment around gum tissues can initiate periodontal disease. Initially seen as bleeding gums, it can progress causing bone loss and mobility of the involved teeth. The teeth neighboring the gap tend to shift positions leading to imbalances in the dentition. Unfavorable transfer of biting forces can cause cracks and ultimately fracture the involved teeth. When a number of teeth are missing, the jawbone remodels and compromises the facial support.
Benefits of dental implants as a restoration
Dental implants are metal posts which replace lost tooth roots. The commonly used metal is Titanium alloy. Implants are surgically inserted into the jaw bone. Thanks to the process, which is termed as Osseointegration; dental implants bind to the jaw bone and have numerous benefits.
Implanted teeth can last for many decades
Implanted teeth are very stable
Implants protect and stimulate the jaw bone
Implanted teeth are easy to clean and maintain
Implanted teeth restore chewing efficiency
Implanted teeth protect the neighboring teeth from gum disease and tooth decay
Dental implant surgery
Almost any person who is not medically compromised can undergo implant surgery. Some exceptions are patients who have received extensive radiation doses to the head and neck region, patient who have uncontrolled medical conditions, pregnant women and patients who receive intravenous bisphosphonate treatment.
During the initial consultation a thorough review of your medical history will be done. Your specific concerns and questions will be answered. A thorough assessment of the area of concern will be made with 3-dimensional scan of the area. Diagnostic models will be made and your specific situation explained. Different treatment options will be presented and tailored to address your situation.
The implant surgery can be done under local anesthesia or IV sedation. We can supplement local anesthesia with oral anxiolytics or nitrous oxide gas. A small incision is made in the gums and a bony recess is created in the supporting bone using a number of drills. The implant is then carefully torqued in the jawbone and the gums are sutured back. The implant is left to heal for 3-6 months depending on your jaw type and healing abilities. The implant bonds to jaw bone by a process called osseointegration.
During the next visit, your dentist will take an impression of the implant position and an abutment /crown is fabricated in the lab. The dental crown is made of porcelain which looks very similar to natural teeth. The crown is fixed to the implant through an abutment. Our dentists give a detailed explanation of home care. With proper maintenance of oral hygiene, implanted teeth can last for many years!
Searching for the best implant dentist near you?
Our experienced team provides quality dental care for all your dental need. We serve the people of Rancho Mirage CA and other surrounding areas such as Palm Desert, Palm Spring, Coachella Valley, Cathedral City, La Quinta, Desert Hot Springs, Yucca Valley, Indian Wells.
If you ever have missing teeth or want to know more about our dental implant services, feel free to talk to us, we are always happy to hear from you. We care about your smile and dental health and we look forward to making your every visit to our Rancho Mirage dental office a positive experience.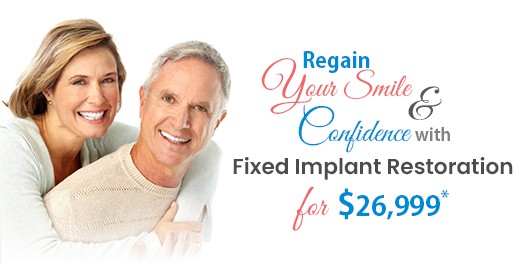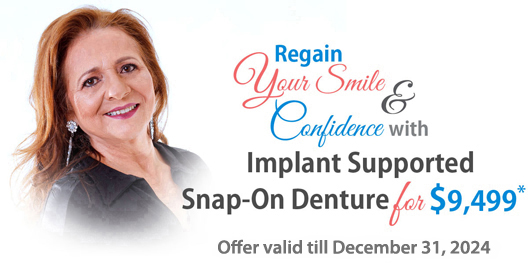 ---
---