Crown Lengthening in Rancho Mirage, Palm Desert, Palm Spring, Coachella Valley, Cathedral City, La Quinta, Desert Hot Springs, Yucca Valley, Indian Wells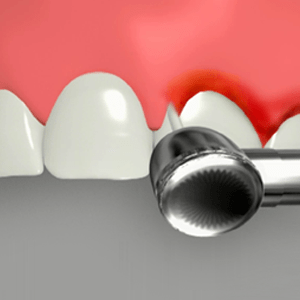 Not always is there sufficient natural teeth exposed above the gum-line. Sometimes this condition may create problems to esthetics of the smile or be an obstacle to a restoration procedure. Dentists suggest crown-lengthening procedure in such cases to enhance the appearance of the smile and improve oral health. The process involves reshaping the soft gum tissues and in some cases the supporting bone structure such that more natural teeth is visible above the gum-line. At our office we have highly skilled and experienced dental professionals who perform oral surgeries. We have followed crown lengthening procedure to support our cosmetic dentistry and restorative procedures in Rancho Mirage, CA. The following write-up provides a brief about how crown-lengthening treatment at our office works.
Why crown lengthening?
A tooth that is chipped or decayed may sometimes be too small to hold a veneer or crown or any other form of restoration. This can be an obstacle for the restoration procedure. Optimum length of natural teeth exposed above the gum-line is crucial for the esthetics of the smile as well. Sometimes patients are simply not happy about their gummy smile. There are even cases where a tooth is decayed below the gum-line and the area is not easily accessible. Crown lengthening is a complex process of reshaping soft gum tissues that is followed in such situations. Through this process more of natural teeth is exposed to help with restoration and smile enhancement.
Crown lengthening procedure
Crown lengthening is a surgical process that is done with the aid of local anesthesia. Dentists set a treatment plan based on the need for crown lengthening. The treatment may involve reshaping gum tissues around two or more teeth. This is done to achieve uniformity in gum-line. Small incisions are made over gum tissues to separate them from the teeth surface. This exposes parts of natural teeth that are hidden below the gum-line. Once the process is complete, dentists use sterilizing agent to make sure that there is no infection caused to surgical area after the treatment. Gum tissues may be sutured together and pain medicines are prescribed for use after the treatment. Follow up visits may be essential to ensure successful and safe completion of process.
Our experienced team provides comprehensive dental care for all your dental need. We serve the people of Rancho Mirage CA and other surrounding areas such as Palm Desert, Palm Spring, Coachella Valley, Cathedral City, La Quinta, Desert Hot Springs, Yucca Valley, Indian Wells.
---