Dental Bridges in Rancho Mirage, Palm Desert, Palm Spring, Coachella Valley, Cathedral City, La Quinta, Desert Hot Springs, Yucca Valley, Indian Wells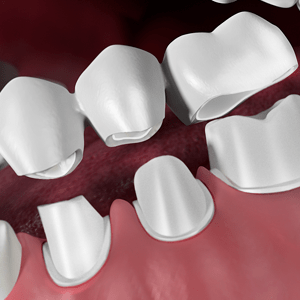 A dental bridge is a prosthesis used to restore one or more lost teeth in a row. Next only to dental implants, dental bridges are highly stable and very effective in supporting biting and chewing functions of patients. The restoration can be fixed over natural teeth or dental implants. On successful completion of the restoration procedure and with proper oral care, patients can maintain the dental bridge for as many as ten years or more. At our dental office in Rancho Mirage, CA, dental bridge is among the many types of teeth restorations we have for offer. To learn how this restoration can help improve your oral health, make an appointment and speak to our dental professionals at our office.
Problems of teeth loss
The most obvious effect of teeth loss is reduction in chewing efficiency. When there are a few teeth missing, the patient loses the confidence to eat hard food items. This can directly affect the social life and the nutritional intake of patients. There is an imbalance in the dentition that is caused from the gap created from teeth loss. This can push the nearby teeth towards the gap that results in orthodontic problems. Teeth loss can also create problems with speech and result in bone resorption.
Dental bridges can resolve most of these problems. The restoration improves chewing efficiency and prevents shifting of positions of nearby teeth. The fixed restoration can also improve speech.
Dental bridges – The treatment process
A dental bridge has one or two anchoring crowns and a false tooth attached as a single piece. The anchoring crowns are fixed over dental implants or natural teeth. The teeth have to be prepared before fixing the prosthesis in place. This is done with the help of local anesthesia.
During the first visit, our dentist prepares the natural teeth using appropriate dental instruments. Impressions of prepared teeth are taken and a temporary bridge is prepared at our office. This temporary protects the natural teeth until the next dental visit. The permanent bridge gets prepared in the lab based on the impressions taken at our office. This may take about 10 business days.
The dentist removes temporaries and cleans the teeth during the second visit. The permanent bridge is checked for fit before being cemented in place. Our team informs patients about how to care for the restoration after the procedure is complete.
Our experienced team provides comprehensive dental care for all your dental need. We serve the people of Rancho Mirage CA and other surrounding areas such as Palm Desert, Palm Spring, Coachella Valley, Cathedral City, La Quinta, Desert Hot Springs, Yucca Valley, Indian Wells.