Difference Between Root Canal and Tooth Extraction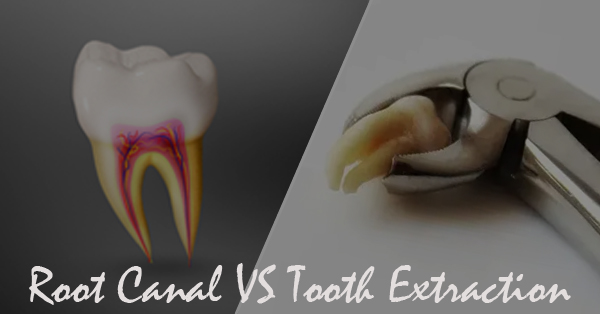 Choosing between root canal and a tooth extraction can be difficult. Especially when it comes to considering the immense benefits of both the treatments at dental care. Both root canal and tooth extraction are the most practiced treatment methods for painful teeth.
But are you more bothered about having a perfect smile and dental aesthetics maintained? If that's so, root canal is a better choice here since tooth extraction might affect your appearance. Root canal is also a good choice for the preservation of damaged teeth. In our previous blog, we have explained 4 reasons root canal is better than tooth extraction in Palm Springs. However, here's a glimpse at both the treatments at the dental office to make up your mind about which treatment mode suits your needs.
Root Canal or Tooth Extraction?
Root canal treatment in Cathedral City is more favorable when you need to preserve a tooth that is either decayed or damaged. Your tooth might be decaying or has an infected pulp, in which case a dentist can save your tooth from further damage from the root canal.
But there might be scenarios where a general dentist in Coachella Valley can't save your tooth. For instance, there might be a serious cavity that is hampering the tooth's health and structure. This makes your tooth very vulnerable and delicate, beyond repair. In such a case, tooth extraction is needed.
Tooth Extraction Treatment in Cathedral City:
For tooth extraction, a dental practitioner will numb the site by injecting local anesthesia to ease your pain. To extract your tooth, a dentist initially uses an elevator to loosen your tooth from the socket. Once done, forceps will do the tooth extraction in Cathedral City quite efficiently. Your tooth might feel some pressure, but be rest assured that there will be no pain.
You will next be asked to bite on a gauze piece for about an hour or so to clot the blood flow. You might face some inflammation, light bleeding, light pain. Ice packs, soft food, plentiful rest and doctor-advised painkillers will help.
Root Canal Treatment in Cathedral City:
For the root canal, a dentist will numb the affected area and make an opening in it. Through the opening the infected pulp will be removed. Once done, the pulp chambers will be thoroughly cleaned to eliminate any iota of bacterial existence. Following this, a substitute material will be used to fill the chamber and replace the dead pulp. The treating dentist might also place a crown over your tooth to restore the appearance and functionality.
So, both of the processes of cosmetic dentistry in Cathedral City are efficient and beneficial, but it depends on your dental condition.
Conclusion:
Consult with Implants Guru - Keerthi Senthil DDS, MS, a leading cosmetic dentist in Cathedral City to better understand which procedure works best for your case. For more call us at 760-340-5107 and schedule an appointment today.