General Anesthesia in Rancho Mirage, Palm Desert, Palm Spring, Coachella Valley, Cathedral City, La Quinta, Desert Hot Springs, Yucca Valley, Indian Wells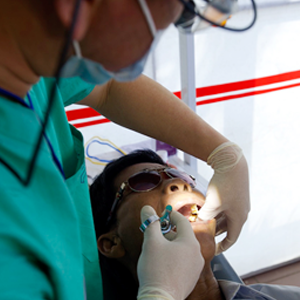 What is General Anesthesia?
General anesthesia is a process of making your brain unresponsive to any kind of pain and reflexes during medical or surgical procedures. Under general anesthesia, you will be completely unconscious and unable to feel the pain during the surgery.
In order to administer general anesthesia, a specialist called anesthesiologist will take complete care of you before, during and after your surgery. While you are unconscious your body is constantly monitored for vital functions such as breathing by an anesthesiologist.
Difference between Local and General Anesthesia
Anesthesia is broadly classified into general and local anesthesia. In the case of general anesthesia, it induces anesthetic condition throughout the whole body so that any region of the body is applicable for surgery. However, in the case of local anesthesia, the anesthetics are injected into the surgical site. The use of local anesthesia may be sufficient to avoid pain for many dental patients. While general anesthesia may be more appropriate to deliver dental procedures in a safe and efficient manner.
Use of General Anesthesia in Dentistry
Though the general anesthesia used for a dental procedure is typically less invasive compared to the medical procedure but is still an important part of the dental industry. It is commonly used to help patients with anxiety or challenging behavior, many of whom are patients with special needs or children. It may also be recommended depending on the case and patients that:
Experience acute anxiety to dental procedures
If local anesthetic is not effective pain control for the patient
Involves complex dental procedures which otherwise may require may visits if performed without general anesthesia
If a patient is having difficulty opening the mouth for a period of time or have a choking sensation to an exaggerated gag reflex
Unable to remain calm during the procedure due to physical or mental disability
What can you expect?
Before the dental procedure
Prior to your dental procedure, your anesthesiologist will have a discussion with you regarding the health history, prescription medicine, supplements, over the counter medicines, allergies and your past experience with anesthesia. This might help the anesthesiologist decide which medications will be safe for you.
During the dental procedure
Anesthetics may be injected in your arm or may be given in the form of gas that you can breathe from a mask. Once you are asleep, the anesthesiologist may take necessary measures to make sure you get enough oxygen and protect your lungs from fluids and blood to help you manage your breathing during the dental or medical surgery.
The team of anesthesia will constantly monitor while you are in sleep. Any problem occurred during the procedure are corrected with appropriate medications.
After the dental procedure
On completion of surgery, the anesthetics are stopped and you will be allowed to slowly wake up. You will perhaps feel little confused when you first wake up. You may also experience common side effects such as vomiting, dry mouth shivering, sleepiness, nausea, sore throat, pain. Side effects depend on the type of surgery and on the individual condition. Your doctor may prescribe medication after the procedure depending on the individual condition.
Our anesthesiologist is a skilled and experienced professional providing all levels of anesthesia to ease the dental procedure or surgery and allows for a safer and comfortable experience for both the dentist and the patient.
Our experienced team provides comprehensive dental care for all your dental need. We serve the people of Rancho Mirage CA and other surrounding areas such as Palm Desert, Palm Spring, Coachella Valley, Cathedral City, La Quinta, Desert Hot Springs, Yucca Valley, Indian Wells.