Sedation Dentistry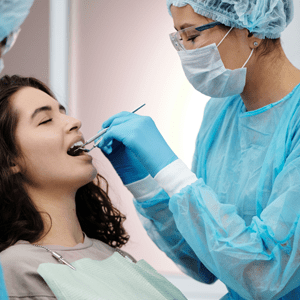 Fear is one of the common feelings people associate with dental treatment. Research has shown that a large part of the US population suffers from various degrees of dental phobia. This discourages people from visiting a dentist. The fear can go to an extent where patients endure the pain caused from tooth decay just to avoid a dental appointment. This can be very dangerous to both oral and overall health of patients. It is a technique followed by dental professionals to free patients from anxiety and let them relax during dental treatment. Patients can feel more comfortable at the dentist's chair when a sedative is administered. A lengthy procedure may seem to finish in a very short duration. This helps our dentist concentrate on treating patients. If you are anxious about visiting a dental office, call us and speak to our dentist about your fear. Our sedation dentistry techniques can help you undergo the treatment with less hassles. We have patients visiting us from Rancho Mirage, Coachella Valley, Cathedral City, Palm Desert, Palm Spring and surrounding communities seeking for oral care.
Types of sedation dentistry
This is recommended to patients based on the level of anxiety they have for a particular dental procedure. Some patients may be scared of needles while others may hate the sound of a dental drill. Depending on the level of stress/anxiety a patient expresses for a particular dental treatment different types of sedation can be recommended.
Mild sedation
This is recommended when patients are not really scared but feel slightly uncomfortable about the dental treatment. In such cases patients may require a mild sedative to calm them and make them feel relaxed. Nitrous oxide is the most widely used mild sedative. Nitrous oxide can be inhaled by patients through an equipment. The recovery time is less for this type of sedation.
Moderate sedation
This is recommended for those patients who are more anxious about the dental treatment. The technique may be useful for long procedures. Dental team continuously monitors the pulse rate, respiration and blood pressure level of patients during the treatment. Patients can respond to verbal commands and physical stimulation. The whole procedure may seem to finish quickly when under a moderate sedative. Patients may have to be escorted to office and back home. They are advised not to operate on any type of machinery for 8 hours after the dental treatment.
Deep sedation
This is recommended to patients who are severely anxious about dental care and for those patients with special needs. Oral and IV sedatives can help us achieve a degree of relaxation where patients respond only to physical stimulation. The dental team is extremely careful when administering this type of sedative. Crucial factors such as respiration, pulse rate and blood pressure levels are monitored throughout the treatment.