Sedation Dentistry Rancho Mirage, Palm Desert, Palm Spring, Coachella Valley, Cathedral City, La Quinta, Desert Hot Springs, Yucca Valley, Indian Wells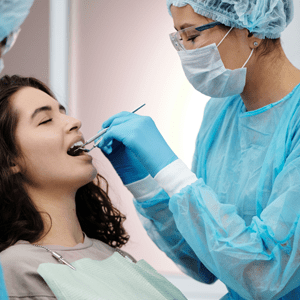 Fear of dental treatment is a common problem that demotivates people from visiting a dentist. The fear may be due to the pain caused during treatment, the sound of dental drill or the sight of the dental chair itself. Irrespective of the cause, the fear can simply keep patients away from going through dental treatment even when it is most required. There are patients who are known to have endured toothache just to avoid dental visits. Under such circumstances, the oral health worsens and there can be teeth loss. Sedation is used in our dental office to help patients feel comfortable during the treatment. Different sedation dentistry techniques are followed at our Rancho Mirage, CA office based on the anxiety level of patients. Read on to get an idea of how sedation dentistry can help you with your fear of dental treatment. Make an appointment with our dentists to learn more about sedation dentistry offered in our Rancho Mirage office.
Sedation dentistry – Is it a need?
Sedation involves use of appropriate agents to let patients relax during dental treatment. The patients feel very comfortable during the process while the dentist can concentrate more on treating the problem and not worry about the anxious patient. Sedation dentistry is definitely not a need to patients who feel comfortable being treated by a dentist. For such patients some sedatives may be needed for long procedures.
Patients who are anxious about dental treatment and feel very uneasy when sitting in a dentist's chair may require sedatives. The cause for fear and the degree of fear are different in different patients. The sedative is recommended based on the need of patient.
Sedation dentistry – Types
Sedation methods can be broadly classified based on the mode of administration and degree of relaxation achieved. Sedation dentistry requires monitoring equipment to check respiration, pulse-rate and blood pressure levels in patients. These supporting equipment ensure safe and effective sedation process.
Nitrous oxide
Nitrous oxide is the most widely used sedative for mild sedation. The inhalation of nitrous oxide gives a feeling of euphoria. The sedative may be suitable for small procedures and for patients who are not very anxious but just require some support to make them feel relaxed.
Oral sedative
Oral sedatives are over-the-counter prescription drugs which are to be consumed few hours before the treatment. The patient should be escorted to our office and driven home by a caretaker. The patient should not operate any machinery for about 6-8 hours after the treatment.
IV sedation
Intravenous sedation is a method where sedative is directly administered through veins. This method has the advantage of controlling the amount of sedative during the treatment. The sedation process is reversible and the patient can quickly recover after treatment.