Sedation Dentistry Services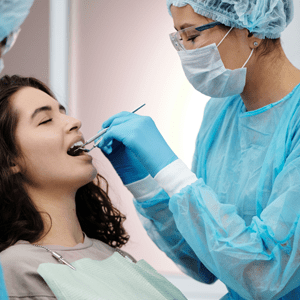 The thought of visiting a dentist springs fear in many Americans. People are afraid of pain caused from treatment, the sound of dental drill, the smell of a dental office and sometimes simply the sight of the dentist. There can be several reasons for this fear. Sedation dentistry can help anxious patients get the dental treatment they require in the most comfortable and relaxed manner. Though sedatives do not help patients overcome fear or battle fear, the agents do a wonderful job of letting them relax and help dental professionals concentrate on treatment. There are different types of sedatives available to suit the needs of patients. If you are scared of dental treatment, come speak to our dentist at Rancho Mirage. With the help of sedatives we have been successful in treating patients from La Quinta, Desert Hot Springs, Yucca Valley, Indian Wells California and surrounding communities.
Types and techniques of sedation
Depending on the level of anxiety or discomfort expressed by patients and length of treatment, we recommend different levels of sedation. The recovery time and after care are different for each sedation method followed.
Mild sedative
Mild sedatives are recommended to patients when they are not very anxious about treatment but are slightly uncomfortable and require some support to stay relaxed. Nitrous oxide is one of the commonly used sedative. It is commonly called as laughing gas. When inhaled along with oxygen the gas can give euphoric feel. The recovery time is less.
Moderate sedation
Moderate sedation is recommended when patients are anxious about the treatment and do not want to remember much about the process. Oral sedatives and IV sedation can be used for this purpose. Patients have to be escorted to office and back home by a care taker. They should follow the instructions provided by the dentist. Pulse rate, respiration and blood pressure level is continuously monitored by the team during the treatment.
Deep sedation
Deep sedation is recommended to patients with special needs and to those who are highly anxious. We makes a note of the medical condition of the patient. Patients should be brought to our office and taken back home by a care taker. They are not advised to operate machinery. Patients may take few hours to recover from the process.