7 Most Popular Cosmetic Dentistry Treatments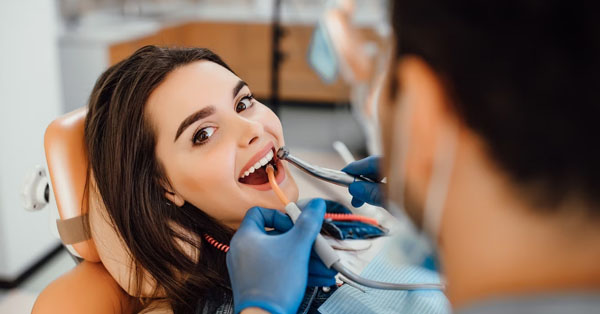 Cosmetic Dentistry has evolved significantly over the years, offering a wide range of treatments to enhance the appearance of your smile. Whether you're looking to brighten your teeth, correct imperfections, or achieve a total smile makeover, there's a cosmetic dentist who can help. In this blog, we'll explore the seven most popular cosmetic dentistry treatments available and how they can transform your smile. So, if you need a dental check-up or are interested in dental fillings, read on to discover your options with Cosmetic Dentistry in Cathedral City.
Exploring 7 Types of Cosmetic Dentistry Procedures
Teeth Whitening: Brighten Your Smile

One of the simplest yet highly effective cosmetic dentistry treatments is teeth whitening. Over time, our teeth can become discolored due to factors like diet, aging, or lifestyle choices such as smoking. Teeth whitening can help you regain your pearly whites. A professional cosmetic dentist in Cathedral City can offer in-office treatments or provide you with a take-home kit for gradual, safe whitening. With teeth whitening, you can enhance your smile's brightness and boost your self-confidence.

Dental Veneers: A Solution for Imperfections

Dental veneers are custom-made, thin shells that are placed over your natural teeth to conceal imperfections. They are an ideal solution for chipped, stained, or misaligned teeth. Your cosmetic dentist will prepare your teeth and then bond the veneers to create a flawless, natural-looking smile. Veneers are durable and stain-resistant, providing a long-lasting solution to enhance your teeth's appearance.

Invisalign: Straighten Your Teeth Discreetly

By providing a covert substitute for conventional braces, Invisalign has completely changed the orthodontic treatment landscape. These personalized transparent aligners will gradually move your teeth into the appropriate position. Invisalign is removable, allowing you to eat, brush, and floss without the inconvenience of wires and brackets. For those who want to straighten their teeth without drawing attention to it, Invisalign is a popular choice for a dental check-up in Cathedral City.

Dental Implants: Restore Your Missing Teeth

Dental implants can offer a long-term, aesthetically pleasing replacement for lost teeth. A titanium post that is surgically placed into the mandible to function as a replacement tooth root is called a dental implant. Your cosmetic dentist in Cathedral City will then attach a crown to the implant, completing your smile. Dental implants not only restore your smile's appearance but also support your overall oral health by preventing bone loss and maintaining the integrity of neighboring teeth.

Dental Bonding: Quick Fixes for Minor Flaws

Dental bonding is a versatile cosmetic dentistry treatment for minor imperfections like chips, gaps, or discoloration. In this procedure, a tooth-colored resin is applied to the affected tooth and then shaped and polished to blend seamlessly with your natural teeth. Dental bonding is a cost-effective and quick solution to enhance your smile's aesthetics, and it can often be completed in a single visit to your cosmetic dentist.

Gum Contouring: Enhancing Your Smile's Frame

While teeth play a significant role in your smile's appearance, your gum line is also essential. An otherwise lovely smile might be ruined by uneven or overlying gum tissue. Gum contouring, also known as gum reshaping, is a cosmetic dentistry procedure that can improve the balance between your teeth and gums. Your cosmetic dentist will carefully sculpt your gum line to create a more harmonious frame for your teeth, enhancing the overall aesthetic of your smile. If you're seeking cosmetic dental services such as gum contouring and dental fillings in Cathedral City, you can consult with a trusted dentist to enhance your smile's beauty and oral health.

Full Smile Makeovers: Comprehensive Cosmetic Dentistry

For those seeking a complete transformation, a full smile makeover is the answer. This approach combines various cosmetic dentistry treatments to address multiple concerns and create a stunning, harmonious smile. A customized treatment plan is developed by your cosmetic dentist to achieve your specific goals. Whether it involves teeth whitening, veneers, dental implants, or other treatments, a full smile makeover can provide you with a radiant and confident smile.
Choosing the Right Cosmetic Dentistry Treatment:
When considering cosmetic dentistry treatments, it's essential to choose the right one for your unique needs and goals. Your journey to a more beautiful smile begins with a consultation with a skilled cosmetic dentist in Cathedral City. During this consultation, your dentist will evaluate your oral health, discuss your desires, and recommend the most suitable treatments.
Whether you're interested in teeth whitening, dental veneers, Invisalign, dental implants, dental bonding, gum contouring, or a full smile makeover, your cosmetic dentist will guide you through the options, explaining the benefits and expected results of each treatment. Together, you can create a personalized plan to achieve the smile you've always dreamed of.
Achieving Your Dream Smile with Cosmetic Dentistry:
Cosmetic dentistry offers a variety of treatments to enhance the aesthetics of your smile. From simple teeth whitening to complete smile makeovers, there's a solution for every concern. So, whether you need a dental check-up in Cathedral City or you're considering dental fillings in Cathedral City, remember that a beautiful smile is within your reach. Choose the right cosmetic dentistry treatment and embark on a journey to a more confident and radiant smile. Your experienced cosmetic dentist is here to help you achieve your smile goals.
Are you prepared to improve your confidence and smile? Contact Dr. Keerthi Senthil at Implantsguru today to schedule your consultation. Helping you achieve the smile of your dreams is our aim. Call us at 760-340-5107 to get started on your journey to a more radiant and confident smile.