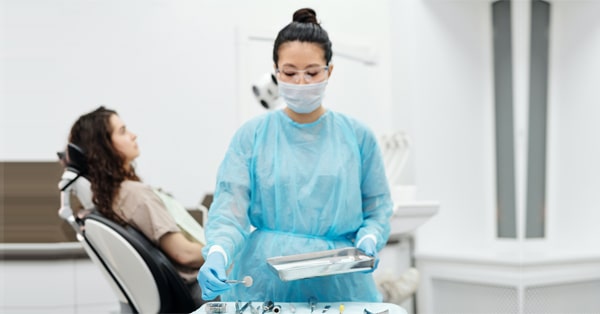 Some Basic Requirements to become an Dental Assistant:
Dental assistants are professionals who usually learn and develop their skills over their job, although some receive training from one of the dental-assisting programs offered by community and junior colleges, trade schools, technical institutes, or the Armed Forces. In some states, it is mandatory that dental assistants must be licensed or registered.
So let us see what are the Educational Requirements for Dental Assistants in USA?
While in some states dental assistants can work in the field of dentistry without any college degree, in other states dental assistants should be licensed or registered. They may also be required to pass a written or practical exam. Dental assistants are usually trained at community colleges, vocational schools, technical institutes, universities, or dental schools. After the completion of the program that usually takes about nine to eleven months, in addition to an exam, dental assistants receive a certificate or diploma in dental assisting. Two-year programs offered in community and junior colleges lead to an associate degree. All programs require a high school diploma or its equivalent, and some require science or computer-related courses for admission.
What do you need to do become a Certified Dental Assistant (CDA)?
If you plan on becoming a Certified Dental Assistant, or CDA, you must take a CDA examination after you have completed an accredited dental assisting program, or have at least two years of full-time on-the-job training as a dental assistant.
The Commission on Dental Accreditation of the American Dental Association is the institute that accredits dental assisting school programs, of which there are more than 200 in the United States. Your chosen dental assistant education program should meet any nationally prescribed condition.
Dental assistant training includes areas of study such as administrative tasks, patient care and lab skills which are mandatory for your certification and will ensure your value to your employer. Most dental assistant education programs include practical instruction or providing supervised training in a dental office.
High school grade students who plan to make a career as a dental assistant should consider taking courses in biology, chemistry, health, and office practices.