Dental Inlays and Dental Onlays: What's The Difference?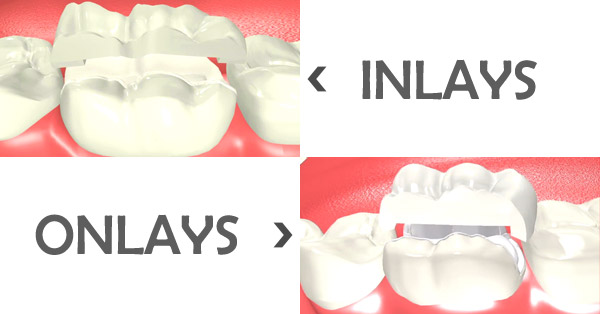 Fillings and crowns are the most common treatments for cavities and dental decay. However, there are other alternative treatments such as dental onlays and dental inlays in Rancho Mirage. At times, a normal filling or a crown does not help with the decay, it needs more intense treatment. Dental inlays and onlays are performed by our professional dental implant specialist in Rancho Mirage by Dr. Keerthi Senthil DDS, MS at Implants Guru.
Inlays and Onlays are more substantial and intrusive than fillings and crowns and need reshaping of the teeth too.
Differences Between Onlays and Inlays in Rancho Mirage:
Another term used to describe dental inlays and onlays is Indirect Fillings. They take the exact shape and size of the teeth. Inlays and Onlay are usually done on premolars or molars.
1. Dental Inlays:

Dental Inlays are designed to remove the damages found on the exterior of the tooth. This treatment is normally done on the tooth cusp. These inlays are used with various materials like porcelain inlays in Rancho Mirage , gold, and composite resins. These inlays are made by taking the imprint of the affected part of the teeth and placed exactly in the hollow part of the teeth.

2. Dental Onlays:

Dental Onlays are used on larger affected areas of the tooth and are also called partial crowns. This treatment is done on the biting part of the tooth and is also done on more than two- three cusps. The same material is used for inlays is used in Onlays too example: porcelain onlays in Rancho Mirage. This treatment can save the tooth structure and safeguard them from more degradation.
The Endurance of Dental Inlays and Dental Onlays in Palm Desert:
Porcelain inlay and onlays in Rancho Mirage last for a longer period than crowns and fillings. An inlay can last up to 5 to 30 years. But no dentist can guarantee its lasting time as there are many factors that tag along. Good oral hygiene, like brushing twice and flossing daily contributes hugely to the durability of the Inlays or Onlays. Another important factor that contributes to the durability of the treatment is regular dentist check-ups. Other factors like chewing hard food, grinding of the teeth will crack the substance used on the teeth causing wear and tear.
Conclusion:
A recommendation to get your inlays and onlays done would be Implants Guru. You have the best dental implant surgeons in Rancho Mirage, Palm Desert, Palm Springs, Coachella Valley, Cathedral City, La Quinta, Desert Hot Springs, Yucca Valley, and Indian Wells. For more information call us at 760-340-5107 and schedule an appointment today.