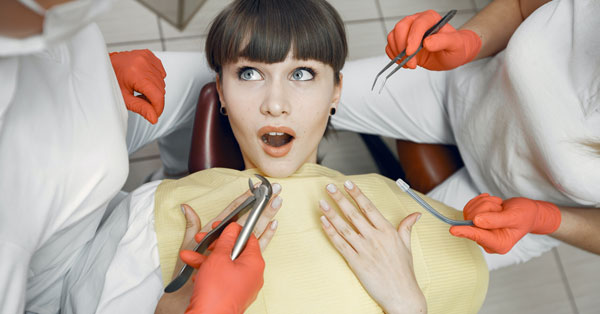 With increasing awareness of dental care, it has become quite usual to undergo dental surgeries which are done to improve your overall oral health. Be it a dental implant surgery or a simple teeth cleaning procedure, the use of some kind of surgical instrument to perform these treatments are unavoidable.
It is no big thing to admit that many of us are afraid by the very thought of getting a dental treatment done. Some people would rather endure the pain that they are facing than get a dental treatment done. This anxiety faced makes it difficult for the dentist as well as the patient to get the treatment done.
Sedation Dentistry is used to relax people with dental anxiety, so that dentist can carry out smooth dental procedure without any disturbance.
So where did the sedation dentistry start from?
The first experiment was conducted by Dr. Horace Wells in the year 1845. Dr. Wells tried to numb the patient using nitrous oxide, but the experiment conducted by Dr. Wells was unsuccessful as he dint quite have the system down-pat. But in the following year 1846, Dr. William T. G. Mortan conducted a live experiment in front of a group of doctors and students at Harvard University. He used Sulfur-ether compound on a patient and successfully conducted a painless surgery, proving the successful use of anesthesia.
The successful use of anesthesia has encouraged dentist to use it on patients with dental distress to relax them. There are three type of sedation dentistry namely:
Nitrous oxide
Oral Sedative
IV Sedation.
The use of sedatives to treat patients depends on the severity of the nervousness.
Some other techniques that you can inculcate in your next dental visit to combat your fears
Be frank to your dentist about your fears. With advancement in technology most of the treatment carried out is painless. But make sure you talk to your dentist about the course of the procedure.

Distraction: Try to keep yourself distracted with something more pleasing you like asking you dentist to play a soothing music. This will help keep your mind out of dental procedures.

Deep breathing is also one of the effective methods that help you relax and overcome your fear of dental anxiety.
If you would like more information on sedation methods, talk to Dr. Keerthi Senthil . She can explain which sedation techniques work the best to help you choose the most effective one. To schedule an appointment, call our Rancho Mirage, CA office at 760-340-5107. Also, visit our website to view services, smile gallery, and to learn more about our staff. Dr. Senthil happily treats all her patients in Rancho Mirage, Palm Desert, Palm Spring, Cathedral City, La Quinta, and surrounding communities.