Insights on General Dentist: Unveiling Common Dental Procedures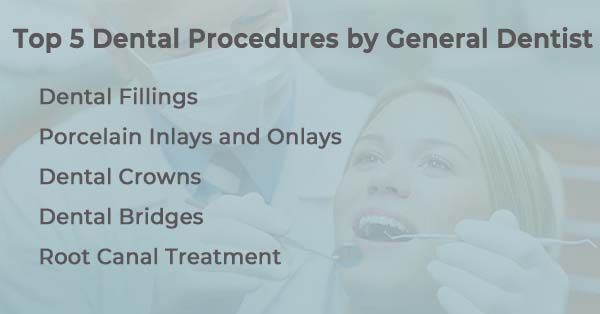 At the forefront of general dentistry in Cathedral City is a highly skilled and specialized dentist who offers comprehensive oral healthcare services to patients of all age groups. With a deep understanding of the field, this dentist in Cathedral City is dedicated to providing exceptional care and treatment. Their expertise lies in diagnosing, treating, and managing a wide range of dental conditions. In a previous blog post, we discussed what separates general dentistry from cosmetic dentistry procedures. However, in this blog post, we will understand insights on general dentistry: unveiling common dental procedures.
By offering a diverse range of dental procedures, they ensure that patients receive the utmost care tailored to their individual needs. With a commitment to maintaining oral health, this professional dentist in Cathedral City strives to deliver top-quality treatment while prioritizing the well-being of their patients.
5 Most Common Dental Procedures From a General Dentist in Cathedral City:
Let's explore the 5 most common dental procedures performed by general dentist in Cathedral City
Dental Fillings:
When it comes to treating cavities caused by tooth decay, our expert general dentist in Cathedral City offers high-quality dental fillings. These fillings, available in tooth-colored composite material, are an excellent alternative to traditional silver amalgam fillings. Not only do they effectively restore the structure and function of the tooth, but they also blend seamlessly with your natural teeth, providing an aesthetically pleasing result. Our dental fillings in Cathedral City are meticulously placed by our skilled team, ensuring optimal oral health and a beautiful smile.
Porcelain Inlays and Onlays:
For smaller cavities, our general dentist in Cathedral City recommends porcelain inlays. These custom-made restorations are precisely fitted into the prepared cavity, providing durable and natural-looking solutions. They are ideal for preserving as much of the healthy tooth structure as possible while effectively addressing the decay. On the other hand, porcelain onlays in Cathedral City is used when the decay or damage extends beyond the cusps of the tooth. They offer additional coverage and protection while restoring the tooth's strength and function. Our porcelain inlays and porcelain onlays in Cathedral City are crafted with meticulous attention to detail, ensuring long-lasting and aesthetically pleasing results. Trust our skilled general dentist to provide you with the highest quality porcelain inlays and onlays for your dental needs in Cathedral City.
Dental Crowns:
Severely damaged or decayed teeth can be effectively restored with dental crowns in Cathedral City. Our skilled dentist in Cathedral City creates customized caps that fit over the visible area of the tooth, above the gum line. Dental crowns not only strengthen and protect the tooth from further damage, but they also enhance its appearance. Crafted with precision and using high-quality materials, our dental crowns in Cathedral City provide a natural and aesthetically pleasing smile while restoring proper function.
Dental Bridges:
At our general dentistry practice in Cathedral City, we offer dental bridges as an excellent solution for replacing missing teeth. Dental bridges consist of artificial teeth, known as pontics, which are anchored to adjacent natural teeth or dental implants. Our dental bridges in Cathedral City restore your smile, fill in the gaps left by missing teeth, and help maintain the alignment of your remaining teeth. With our expertise and attention to detail, we ensure that our dental bridges provide a seamless and functional solution, enhancing both your appearance and oral health.
Root Canal Treatment:
When the dental pulp becomes infected or inflamed, our experienced dentist in Cathedral City recommends root canal treatment. This procedure involves the removal of the infected pulp, thorough cleaning and disinfection of the root canal, and the subsequent filling and sealing of the treated area. Root canal treatment in Cathedral City allows us to save your natural tooth from extraction, alleviate pain caused by the infection, and restore the tooth's health and function. With our precise techniques and advanced technology, we ensure a comfortable and successful root canal experience.
For all your dental needs, trust the expertise of our general dentist in Cathedral City and the comprehensive general dentistry services we provide. Contact us today to schedule an appointment and experience exceptional care for your optimal oral health.
Comprehensive General Dentistry Services in Cathedral City:
Understanding the most common dental procedures performed by general dentists allows you to make informed decisions about your oral health. At Implants Guru - Keerthi Senthil, our trusted general dentist in Cathedral City, we prioritize personalized care and offer a wide range of general dentistry services. Whether you require dental fillings, porcelain inlays, onlays, dental crowns, dental bridges, root canal treatment, or dentures in Cathedral City our experienced dentist will provide tailored treatment options to address your specific needs.
With a commitment to exceptional care and optimal oral health, we invite you to schedule an appointment with our general dentist in Cathedral City. Take the first step towards a healthy and beautiful smile by calling us at 760-340-5107. Our dedicated team is ready to provide you with outstanding dental care that will leave you feeling confident and satisfied. Trust us with your dental needs and experience the difference of our comprehensive general dentistry services.