What Are Dental Veneers? What Are Its Types and Benefits?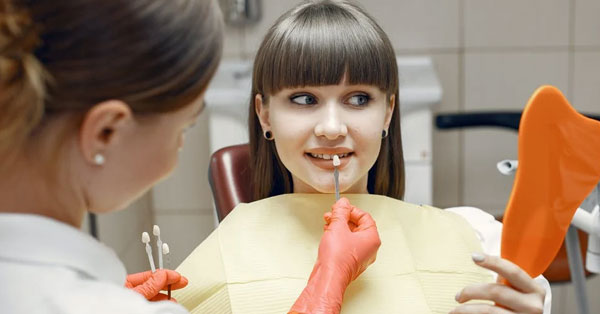 If you feel your teeth look discolored, what options are provided by dental care Rancho Mirage to overcome the same? A thorough dental checkup in Coachella Valley can address the issue and suggest the best dental veneers as the solution. In our previous blog, we have explained the 6 treatments and benefits of consulting a cosmetic dentist in Rancho Mirage. Read on to know the types of dental veneers along with their benefits.
What are Dental Veneers?
Dental Veneers are tooth-colored thin shells attached to the front of your teeth to enhance teeth's appearance. For problems like chipped teeth or discolored teeth, you can always opt for a simpler and easier option of a dental veneer. Dental veneers in Yucca Valley are mostly applied on the teeth on the front side.
3 Types of Dental Veneers in La Quinta:
Porcelain Veneers:

Porcelain veneers are the most common veneers. A few dentists opt for the traditional method of Dental Veneers in La Quinta and start with grinding your teeth and making an impression on a mold. A few dentists opt for CAD/CAM technology so that a computer can make your veneer.

Composite Resin Veneers:

If you choose composite resin veneers, then your dentist will apply a thin layer of composite material on your tooth after etching the surface. Additional layers can be added anytime, if required, to obtain the desired outcome. The dentist in our dental clinic in Rancho Mirage finishes the procedure with a special lift.

No-Prep Veneers:

Veneers and Lumineers are a specific brand of veneers available. They only seem to remove the enamel of the teeth and do not require any anesthetics or any difficult procedures.
Advantages of Dental Veneers:
Veneers offer a natural tooth appearance.
Veneers offer to work on any chipped or broken tooth and work on discolored teeth.
The gums are known to handle porcelain without any concerns.
Porcelain veneers are also stain-resistant.
Veneers are easier to maintain and use as compared to dental crowns.
Veneers can help make your teeth look white.
Dental Veneers Yucca Valley even helps in filling gaps in your teeth.
Difference Between Dental Veneers and Dental Crowns in La Quinta:
Veneers and porcelain crowns in Palm Springs restore your teeth. While veneers only seem to cover the front of your teeth, dental crowns seek to cover the jaw completely. Also, dental veneers do not require a lot of trimming of your teeth. And most of your natural teeth remain when you opt for veneers. The teeth with veneers require very minimum movement.
While when you opt for a dental crown, your entire teeth are protected from decay. Porcelain crowns are permanent and do not require removal for cleaning purposes. Also, if you have dental insurance, a portion of your crown treatment will be covered under it.
Conclusion:
Dental veneers in La Quinta are sought-after for uplifting the appearance of the teeth. Visit Implants Guru, the best dental clinic in Rancho Mirage, where Dr. Keerthi Senthil practices. Dr. Keerthi Senthil is a seasoned implantologist and an oral surgeon. Implants Guru serves the following locations: Cathedral City, La Quinta, Coachella Valley, Rancho Mirage, Yucca Valley, Palm Desert, Desert Hot Springs, Palm Springs and Indian Wells. Browse through our website to submit contact forms or to access other resources for patients.