Will Veneers Stop You From Whitening Your Teeth?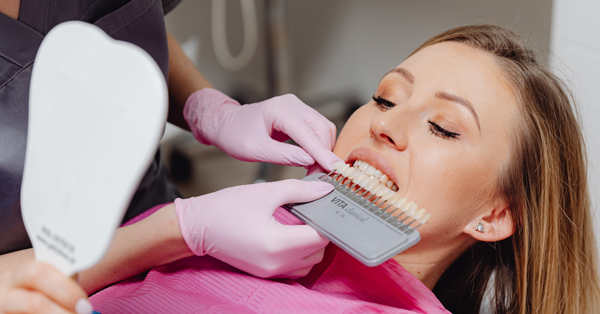 Dental veneers in Palm Desert are a popular cosmetic dental treatment that can help transform your smile. They are custom-made shells that are thin and bonded to the front of your teeth and are used to enhance their appearance. However, many people who have dental veneers wonder whether they can still whiten their teeth. In a previous blog post, we discussed considerations for teeth whitening in patients with periodontal disease. However, in this blog post, we will explore whether veneers prevent teeth whitening.
In this article, we'll explore whether you can whiten your teeth if you have veneers.
Understanding Dental Veneers:
Dental veneers are custom-made from either porcelain or composite resin to match the natural color of your teeth. They are used to fix various dental problems, such as discolored, broken, or chipped teeth, and can also help in closing gaps or enhancing the shape and size of your teeth. After being attached to your teeth, they become a long-lasting solution and can endure for several years with appropriate maintenance.
Can You Whiten Teeth With Dental Veneers?
If you have dental veneers, it's important to know that they cannot be whitened with traditional teeth whitening in Palm Desert. This is because the porcelain or composite material used to make veneers is not responsive to the chemicals used in teeth whitening treatments. This means that the color of your veneers will remain the same, regardless of whether you whiten your natural teeth or not.
It is crucial to keep in mind that teeth whitening procedures can actually harm your dental veneers. The chemicals found in these treatments may weaken the connection between your veneers and natural teeth, leading to their loosening or detachment. Hence, it is advisable to refrain from using teeth whitening treatments on your veneers or seek advice from a leading dental checkup in Yucca Valley.
Whiten Dental Veneers - Options & Tips at Desert Hot Springs Dental Clinic:
If you have dental veneers and are looking to whiten your teeth at any dental clinic in Desert Hot Springs, there are still options available to you. One of them is to replace your current veneers with a lighter shade that matches your preferred tooth color. However, this procedure may be expensive time-consuming, and unnecessary if your veneers are in good shape.
If your dental veneers cannot be whitened due to their material, such as porcelain or composite resin, there is an alternative option to achieve a cohesive and natural-looking smile. You can choose to whiten your natural teeth to match the shade of your veneers. By doing so, you can create a harmonious appearance that blends your natural teeth with the color of your veneers. To determine the most suitable approach for your unique needs, it is recommended to consult with a cosmetic dentist in Palm Desert who can provide expert guidance and personalized treatment.
Achieve a Bright Smile with Dental Veneers and Teeth Whitening in Palm Desert:
If you have dental veneers, you cannot whiten them with traditional teeth whitening treatments. However, there are still options available to help improve the appearance of your smile. If you're considering teeth whitening, it's important to discuss your options with your dentist in Palm Desert to determine the best course of action for your unique situation. Regular dental check-ups at a dental clinic in Indian Wells can help ensure the health and beauty of your smile.
When it comes to finding a reliable general dental office in Desert Hot Springs, look no further than Dr. Keerthi Senthil. Whether you're in need of professional teeth whitening or any other dental procedures, Dr. Keerthi Senthil and her dedicated team are here to provide exceptional care. With a focus on maintaining good oral health and preventing dental problems, you can trust their expertise and commitment to your well-being. For more information about the services offered or to schedule an appointment, feel free to browse through our website or give us a call at 760-340-5107 right away. Your journey towards a healthy and beautiful smile starts here!