10 Ways to Celebrate National Smile Month This June!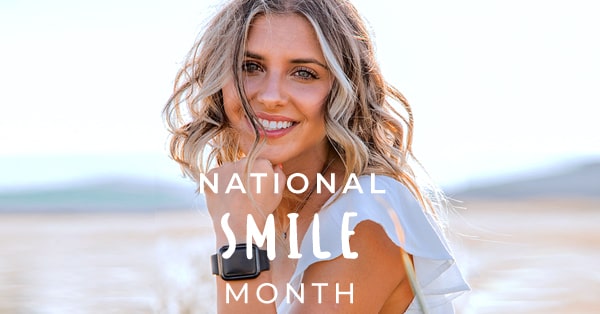 National Smile Month provides an opportunity to examine your dental health. One can educate oneself more about why a good smile is essential. They can share advice on how to enhance and maintain a healthy smile and dental health. A grin offers several daily advantages. This includes increased confidence and its good effects in your life. In our previous blog, we have explained compelling reasons to consult a dentist in Rancho Mirage for dental checkup and dental care. However, as a consequence, investing in your periodontal care makes perfect sense!
10 Ways to Honor National Smile Month With Dentist in Rancho Mirage:
Start Brush With Fluoride Toothpaste:

The toothpaste you use has an impact on your oral health. Fluoride is an important and effective component that has been utilized to reduce the amount of cavities. Hence switch to fluoride toothpaste.

Practice the Use of Mouthwash After Brushing:

Mouthwash is not just to freshen your breath. It neutralizes acids in your mouth. Mouthwash cleans hard-to-reach regions. An ideal gum care in La Quinta regime should include mouthwash which helps remineralizes your tooth.

Reduce Consumption of Sugary Food Items:

People who consume carbohydrates throughout the day are more likely to develop cavities. Sugar from carbohydrates or sweets turns to acid inside the mouth. This can destroy tooth enamel.

Try to Frequently Visit Your Dentist:

Regular dental check up in Yucca Valley ensures good oral health and is an important aspect of overall wellness.

After dental check ups you can opt for teeth whitening in Palm Desert or go for further tests to identify any developing conditions. This keeps your dental health problems at bay.

Stay Hydrated:

Consuming water keeps you hydrated. It is also beneficial for your teeth. Drinking fluoridated water strengthens your teeth and protects them from decay.

Get Dental Insurance:

Individuals having dental insurance are 20% more likely than those without it to see the implant dentist in Palm Springs once per six months. Get your dental insurance during the National Smile Month.

No Smoking:

Chain smoking can culminate in oral cancer or cause gum disease. Smokers are under higher threat of losing their teeth. It also causes issues like yellowed or discolored teeth.

Use Mouthguard:

If you participate in sports, you must wear a mouthguard. This helps arrest damages to your teeth. Getting dental veneers in Palm Desert would be the unwanted alternative otherwise.

New Toothbrush:

Replace your toothbrush every three months. Additionally, if your toothbrush begins to look old, it will no longer clean your teeth as well.

Brush Systematically:

The greatest way to celebrate your smile throughout National Smile Month is to go for a dental check up in Palm Desert and ensure that you clean your teeth twice a day systematically with your special toothbrush.
Conclusion:
Are you still searching for a reliable dentist in Rancho Mirage? Look no more! Dr. Keerthi Senthil at Implants Guru is your best option. Dr. Keerthi Senthil is a renowned implantologist and oral surgeon. If you want to consult the best general dentist in Rancho Mirage, approach the team at Implants Guru. For more information or to book an appointment, call us at 760-340-5107. Submit patient contact form or access informative blogs on dentistry on our website of Implants Guru.